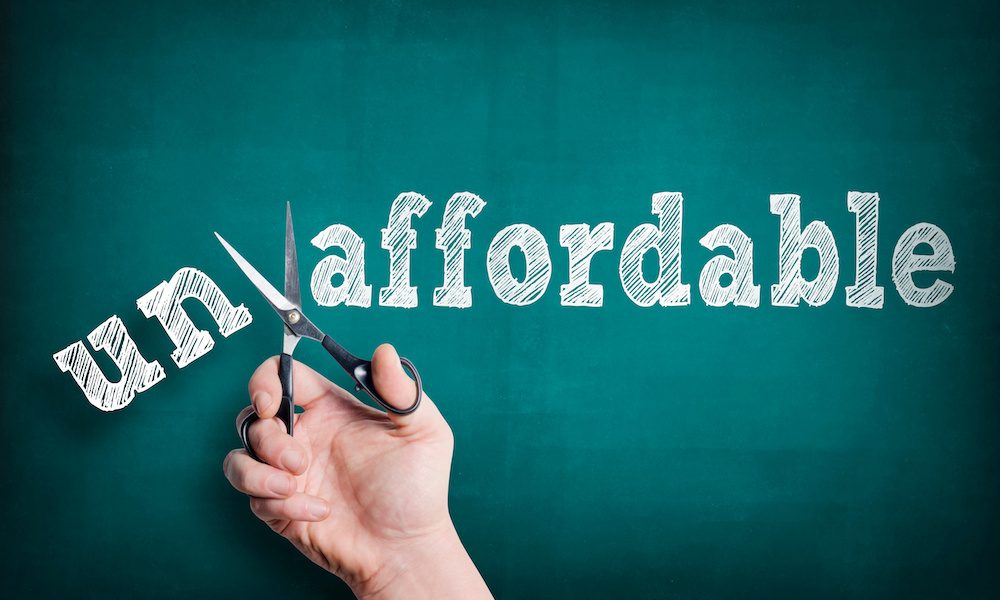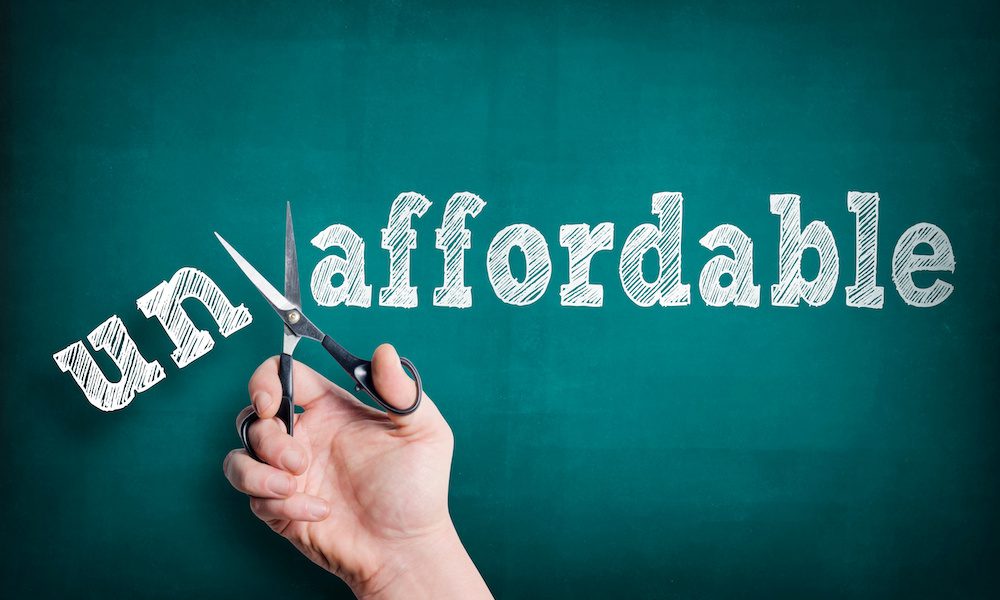 Cost of Commercial Auto Insurance
The cost of commercial auto insurance for your business depends on numerous factors. Fortunately for you, these factors are fairly straightforward, and many of which are in your control! Knowing this can help you lower your commercial auto costs, putting the money you save back into your business.
To start, let's cover some of the most prominent factors that influence the cost of your policy:
The type of industry you are in

Some industries are more prone to auto risk than others. For example, a logging company that uses its vehicles on-site is likely more prone to risk than a marketing agency that only uses its vehicles to get to and from work.

Where your business is located

There are two primary factors that influence this: city size and weather. In general, the larger the city and the worse the weather is, the more expensive your commercial auto insurance rates will be. For example, if your business is located in Milwaukee, you are not only at higher risk of getting in an accident due to the amount of traffic in the city, but also the dangerous snowy conditions that are around for half of the year.

How often and far you travel for your business
The number and types of vehicles you are insuring

If you have many vehicles you want to insure and they are expensive to repair, it is very likely that your commercial auto insurance rates will reflect this in your monthly premium.

You and your employees' driving records

Claims history

of your business
The amount of coverage you want/need
How high your deductible is

The higher your deductible, the higher your commercial auto premiums will be.
8 Ways to Save
Now that we have gone through some of the most influential factors that affect your commercial auto insurance rates, let's cover eight ways you can save on them.
Increase your deductible

Your deductible is the out-of-pocket cost you pay before your insurance kicks in. Increasing it can lower the cost of your commercial auto insurance premiums significantly!

Bundle your commercial auto insurance
Pay your premium in full

Insurance companies (aka insurance carriers) frequently offer to reduce your monthly premium if you pay your full 12-month premium upfront. This can save you substantial money on your yearly commercial auto insurance costs.

 

Pay through an electronic funds transfer (EFT)

Insurance companies often remove processing/administration fees if you pay through an Electronic Funds Transfer (EFT). An EFT pulls funds directly from your bank account on a date you specify, helping your business avoid late payments on your policy.

Hire safe drivers

The driving record of your employees influences the cost of your commercial auto policy. Hiring employees with good driving records can help you reduce your premiums, or at the very least, save you from seeing an increase in them due to bad employee drivers.

Securely store your vehicles

Securely storing your insured vehicles off-road and in a safe location is very important to insurance companies as it reduces risk from things like weather, theft, and vandalism.

Business experience discount

Some insurance companies will provide a discount on your auto policy if your company has been in business for at least three years.

Go through an independent insurance agency

Independent insurance agencies can shop rates from numerous insurance companies, providing you with a variety of affordable insurance solutions. This is much more efficient than getting quotes from insurance companies individually.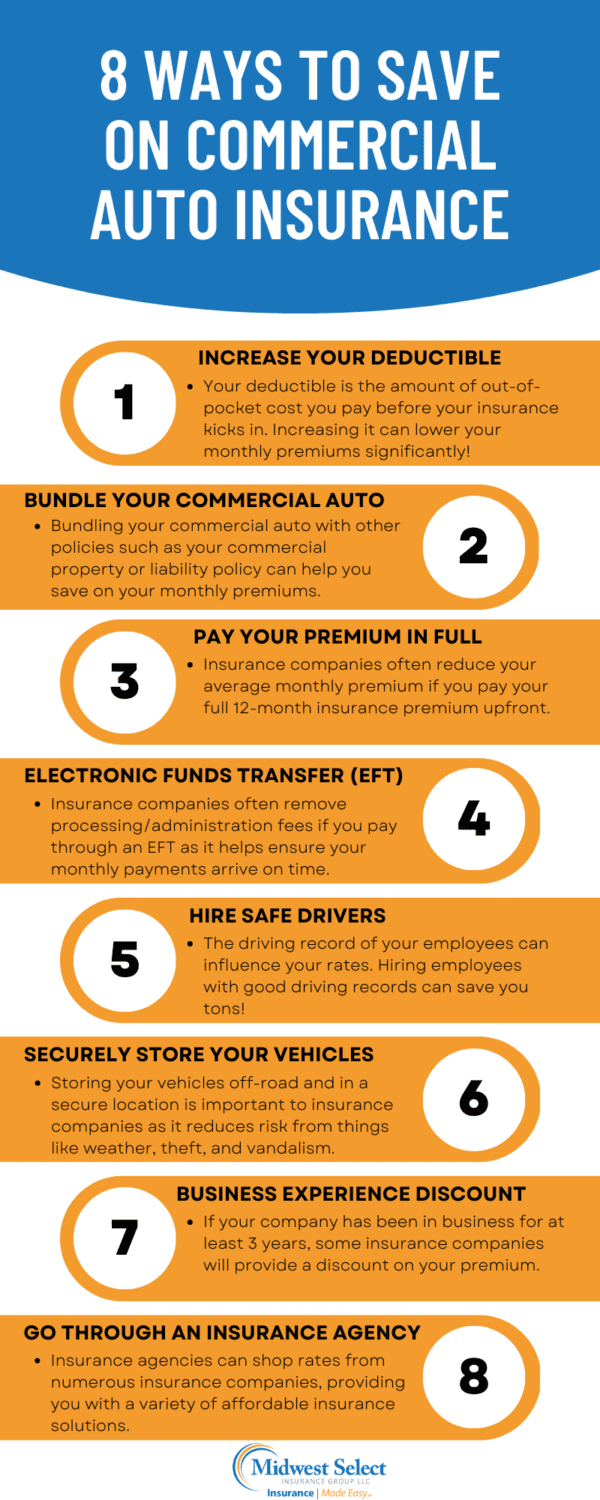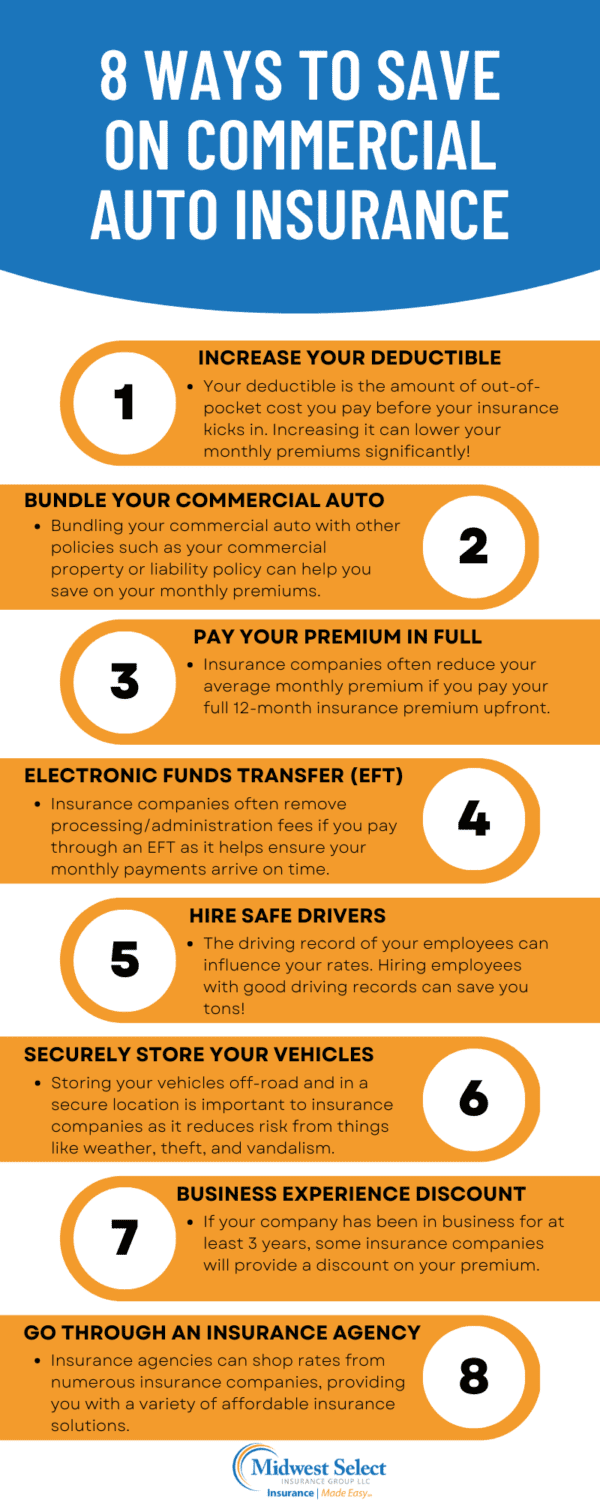 Share this Image On Your Site:
As you can see, there are many ways you can lower the cost of your commercial auto insurance premium. Contact us or request a quote to have an MSIG insurance agent review your current policy, and help you find ways you can save on auto insurance for your business.