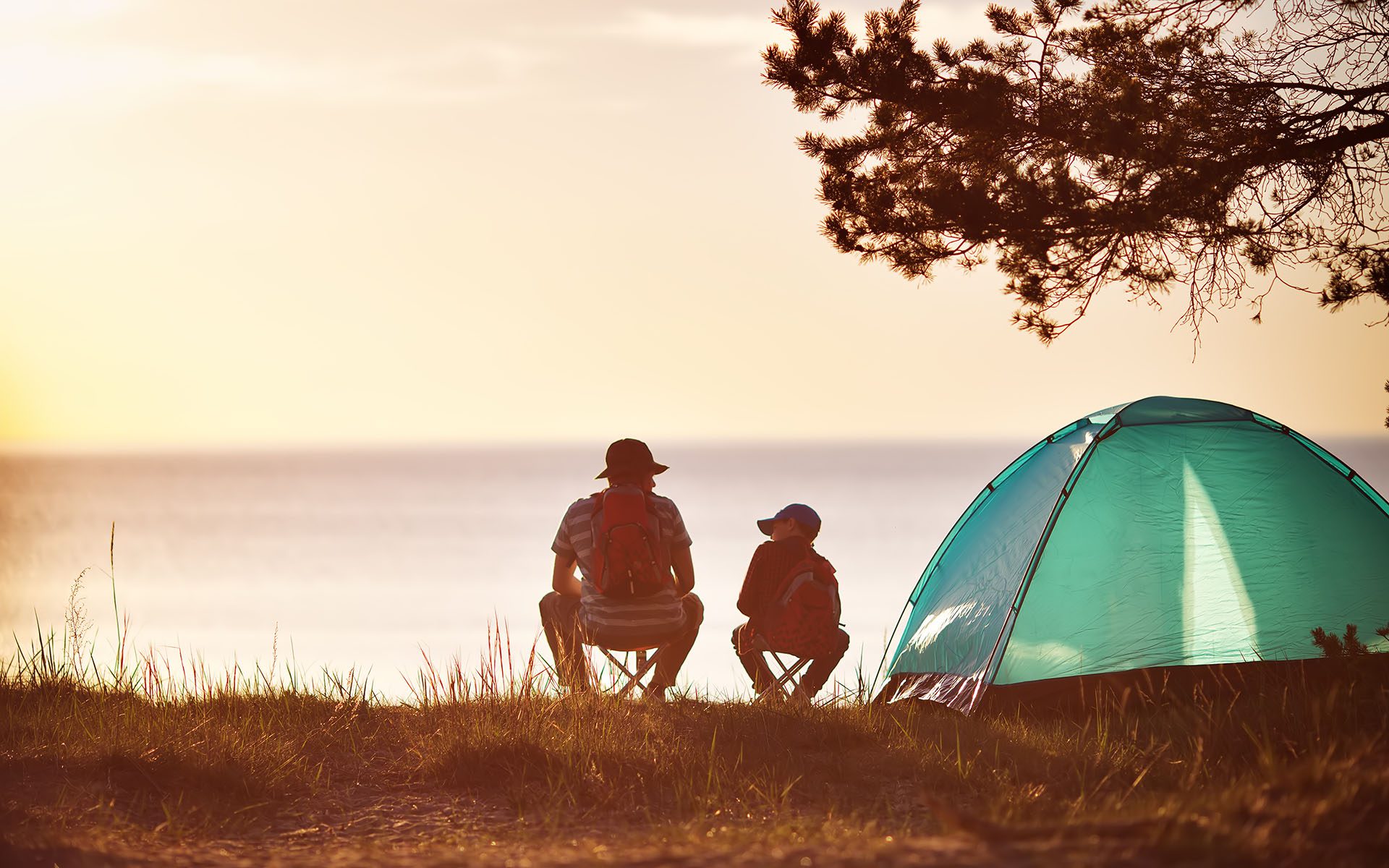 Though some people may think the Midwest only consists of farmland and plains, they would be sourly mistaken. The Midwest contains some of the most stunning landscapes, forests, and lakes the United States has to offer, and one of the best ways you explore them this summer is by camping! There are plenty of campgrounds and outdoor recreation areas throughout the Midwest, making it an ideal destination for all types of campers. If you're planning a camping trip in the Midwest this summer, there are plenty of great places to consider. Here are our top 10 places to camp in the Midwest in 2023:
1. Apostle Islands National Lakeshore, Wisconsin
Apostle Islands National Lakeshore, located on the northern tip of Wisconsin, is a dream destination for camping enthusiasts. Camping in this stunning park offers a unique opportunity to explore a picturesque archipelago of 21 islands (18 of which you can camp on) in Lake Superior. During your trip, experience unforgettable adventures, such as kayaking along sea caves, hiking scenic trails, and discovering pristine sandy beaches. Enriching yourself in the rich history and natural wonders of the Apostle Islands National Lakeshore can make it a camping experience unlike any other.
2. Porcupine Mountains Wilderness State Park, Michigan
Porcupine Mountains State Park, located in Michigan's Upper Peninsula, is one of the Midwest's most popular camping destinations. With over 90 miles of hiking trails and 60,000 acres of wilderness, the park offers plenty of opportunities to explore the great outdoors. Enjoy breathtaking vistas of ancient forests, vibrant fall colors, starry night skies, and majestic waterfalls while hiking exhilarating trails. There are several campgrounds located throughout the park, providing the option to camp in rustic backcountry campsites or more modern sites with electrical hookups.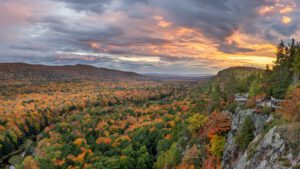 3. Sleeping Bear Dunes National Lakeshore, Michigan
Sleeping Bear Dunes National Lakeshore, nestled along the shores of Lake Michigan, offers an enchanting camping experience. Camping in this pristine park offers the chance to witness the beauty of massive white dunes, clean sandy beaches, and sky-blue water. The park provides a handful of camping options, including the option to camp on two of the park's vibrant islands! In addition to camping, you can explore the park's extensive hiking trails, go for a swim in the crystal-clear waters, or, relax on the beaches.
4. Custer State Park, South Dakota
In the Black Hills of South Dakota, stands Custer State Park. Custer State Park provides a wonderful glimpse into the American West. With 71,000 acres of wilderness filled with plains, creeks, mountainous lakes, elegant rock formations, and a herd of 1,300 bison roaming free, it is the perfect place to camp this summer with your family. The park provides plenty of overnight options from regular campground-style locations to furnished one-room log cabins.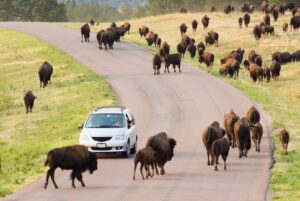 5. Shawnee National Forest, Illinois
Located on the southern tip of Illinois, between the Illinois, Ohio, and Mississippi rivers, lies Shawnee National Forest. Encompassing over 280,000 acres of land, 200 lakes, and 146 miles of river, Shawnee National Forest is a hikers, hunters, and fisherman's paradise.  The national forest provides many opportunities to camp, offering nearly ten campgrounds and the option to do dispersed camping. In addition to camping, visitors can enjoy swimming, horseback riding, boating, and more.
6. Turkey Run State Park, Indiana
Turkey Run State Park, located in western Indiana, is perfect for families interested in casual camping. There is one primary campground that is well maintained and provides luxuries that other park campgrounds may not, such as electrical hookups, picnic tables, fire rings, and a drinking water supply area. In addition to camping, families can enjoy the park's picnic areas, canoeing and kayaking, tennis and volleyball courts, and nature center.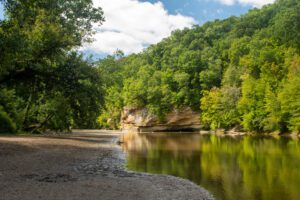 7. Voyageurs National Park, Minnesota
Voyageurs National Park, situated in northern Minnesota, offers an exceptional camping experience in an untouched wilderness. The park's vast network of interconnected lakes and waterways provides unparalleled opportunities for adventure. Picture waking up to the serene calls of loons and the gentle ripples against your kayak or canoe. With stunning landscapes, diverse wildlife including deer, moose, and wolves, and secluded campsites accessible only by watercraft, Voyageurs National Park immerses you in tranquility and nature, helping you escape from the hustle and bustle of everyday life.
8. Devil's Lake State Park, Wisconsin
Devil's Lake State Park, nestled in south-central Wisconsin, promises a great time camping for nature lovers. Prepare to be captivated by the park's awe-inspiring beauty, boasting towering bluffs, crystal-clear water, and verdant forests. Delight in the breathtaking sunrise vistas, traverse picturesque hiking trails, scale impressive 500-foot bluffs for rock climbing adventures, and snorkel in the pristine lake. Make sure to reserve a campsite well before your trip since they can fill up quickly in the summer.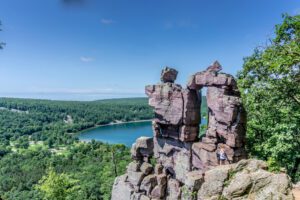 9. Pictured Rocks National Lakeshore, Michigan
Pictured Rocks National Lakeshore, situated along the stunning shores of Lake Superior in Michigan's Upper Peninsula, makes for an awe-inspiring camping trip. Immerse yourself in the beauty of the sandstone cliffs, grand beaches, and breathtaking waterfalls that adorn the shoreline. Camping at Pictured Rocks allows you to wake up to the sound of crashing waves and witness the vibrant hues of the rock formations illuminated by the sun. Explore the picturesque hiking trails, kayak along the crystal-clear waters, and capture the magical sunsets over the lake. Camping in Pictured Rocks National Lakeshore offers an unforgettable opportunity to connect with nature's grandeur and indulge in its stunning coastal landscapes.
10. Theodore Roosevelt National Park, North Dakota
Theodore Roosevelt National Park, located in western North Dakota, offers a captivating camping experience amidst rugged badlands and sprawling prairies. Camping in this remarkable park provides a unique opportunity to immerse yourself in the untouched beauty of the American wilderness. Enjoy the serenade of chirping birds and witness the park's diverse wildlife, including bison, elk, and wild horses. Explore the park's scenic trails, marvel at the colorful sunsets, and stargaze under the vast open sky. Theodore Roosevelt National Park is a haven for nature enthusiasts seeking solitude, adventure, and a deep connection with the untamed landscapes that inspired a conservation legend.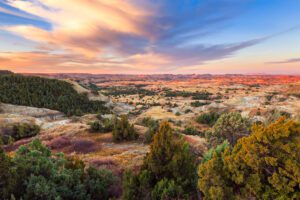 The Midwest offers some of the most beautiful and diverse camping destinations in the country. From the scenic bluffs of Devil's Lake State Park in Wisconsin to the rugged badlands of Theodore Roosevelt National Park in North Dakota, there are plenty of great places to explore and camp this summer. Whether you prefer primitive camping or more modern camping, there's a campground in the Midwest that's perfect for you.
Before you take off, make sure to reach out to your MSIG auto agent to double-check that your car/SUV/RV and off-road vehicles are fully protected for your road trip (there is no easier way to ruin a vacation than getting in an accident and finding out you aren't properly covered). Once you do, start packing your gear and planning for your next camping adventure in the heartland of America!